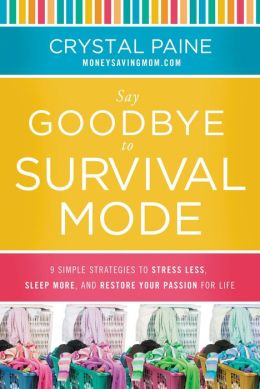 According to my Kindle app I am 46% of the way through
Say Goodbye to Survival Mode
by Crystal Paine. I have followed Money Saving Mom since the beginning and learned so much about frugal and intentional living. What I appreciate most about Crystal's advice is that it is very practical and you are never made to feel like you should do things "her way". She simply provides ample strategies and encouragement. I also really appreciate that she is real and doesn't pretend to have it all together. She is the real deal.
All that said, I was excited to read her new book when it came out this week. I downloaded it to my kindle and took it with me to my three hour hair appointment at the Aveda Institute. Where I paid $50 for what would cost me $200 at a salon. Totally the way to go. I don't like to go there for hair cuts, but basic color is totally a good deal. But, I digress...
This book is full of good stuff. Counter cultural stuff. I really like it and I really hate it. I like it because this is the life I want to live. I hate it because I feel so trapped where I am. I'm just not sure what to do with myself. This book is asking things of me that I don't want to deal with. The fact that I have lots of bad habits and am not sure I have the self-discipline to change them. The fact that the way I spend my time doesn't really reflect what my true priorities are. The fact that I have always struggled with being a people pleaser and find way too much of my identity in what others think of me. The fact that I have always had this vision of what I would be like as a mom that I fail at 75% of the time.
I also know that things have to change. I am done feeling so overwhelmed all the time. I am done being that yucky mom to my kids because my life is so far out of balance. I am done taking my husband for granted. Done losing it in the mornings because I didn't spend 20 minutes getting ready the night before. Done sorting through piles of clean clothes trying to find something for everyone to wear. Done grabbing take out because I don't meal plan. Done letting life happen to me instead of living a full life. Done, done, done!
So, I'm going to do this hard work because the legacy I want to leave 25 and 50 years from now depends on it.